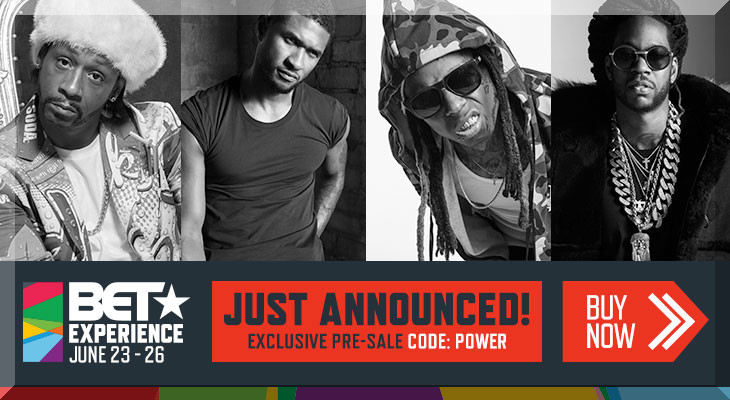 LIL WAYNE, 2 CHAINZ, USHER, BRYSON TILLER, KATT WILLIAMS AND MIKE EPPS TO HEADLINE THE
BET EXPERIENCE AT L.A. LIVE PRESENTED BY COCA-COLA
June 23rd-26th, 2016
FREE BET FAN FEST TO BE HELD AT THE LA CONVENTION CENTER SATURDAY AND SUNDAY June 25th-26th
BET NETWORKS and AEG announced a star studded lineup to headline the 4th annual BET Experience at L.A. LIVE presented by Coca-Cola® at STAPLES Center, The Novo and Los Angeles Convention Center. This year's line-up of concerts at STAPLES Center will feature some of today's hottest talents including Lil Wayne, 2 Chainz, Usher, Bryson Tiller, Katt Williams and Mike Epps. Line-up and events at The Novo presented by Microsoft (formerly Club Nokia) will be announced soon. BET Experience 2016 VIP Tickets June 23rd-26th LA Live
The four-day event will showcase the best in music, comedy, and entertainment. Interactive activations and ticketed shows including a celebrity basketball game will also take place at the FREE BET Experience Fan Fest on Saturday, June 25 and Sunday, June 26 at the Los Angeles Convention Center. Cleanse Your Whole Body
BET EXPERIENCE AT STAPLES CENTER SCHEDULE:
THURSDAY, June 23, 2016
7:30 pm: Katt Williams and Mike Epps
FRIDAY, June 24, 2016
7:30 pm: Usher – Bryson Tiller
SATURDAY, June 25, 2016
7 pm: Lil Wayne and 2 Chainz present ColleGrove
SUNDAY, June 26, 2016
"BET AWARDS" at Microsoft Theater
VIP Packages for the BET Experience weekend are now on-sale. In addition to VIP amenities throughout the weekend and incredible seats for the STAPLES Center shows, three levels of BETX VIP Packages offer guests the only opportunity to purchase tickets to the highly anticipated BET Awards, broadcast live from Microsoft Theater. The 1,000+ VIP Packages sold out in 2015, so guests are encouraged to purchase now before the allotment is depleted. Full package amenities and pricing for the Diamond, Platinum and Gold VIP Packages can be found by visiting BETExperience.com or by calling (877) 234-8425.
General tickets for the BET Experience at L.A. LIVE presented by Coca-Cola® will go on sale April 1, 2016 at 10:00 a.m. (PST). Single day STAPLES Center show tickets are priced as low as $49.50, while 3-day STAPLES Center concert ticket packages start at $148.50. Tickets will be available at http://www.axs.com/betexperience
BET EXPERIENCE 2016 VIP Tickets June 23rd-26th LA Live
Follow BET Experience on Twitter @betexperience for the latest and greatest and join the conversation by using #BETX. Feel free to also check us out online at http://www.betexperience.com