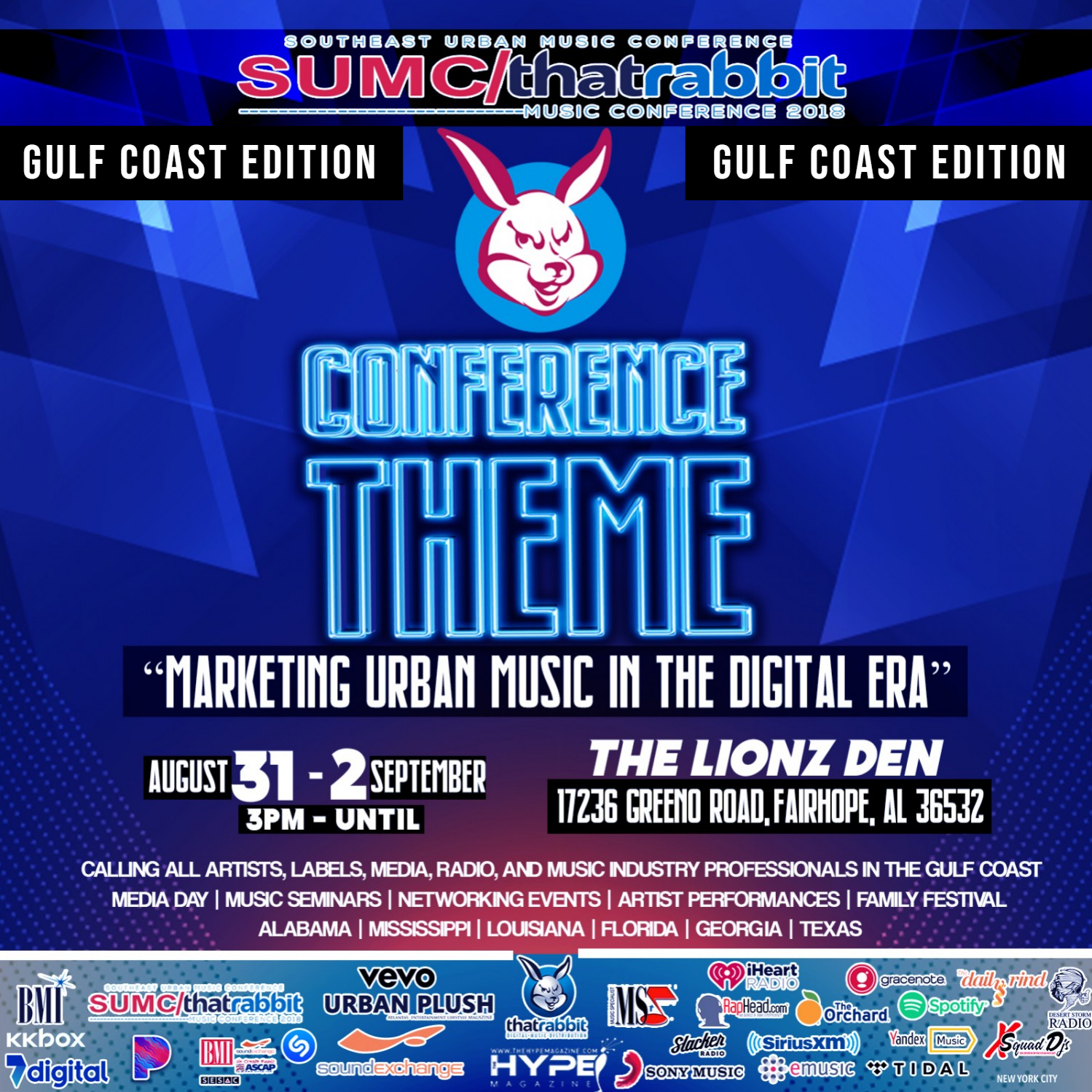 SUMC THAT RABBIT URBAN MUSIC CONFERENCE AUG 31st – SEPT 2nd 2018
Lionz Den 17236 Greeno Road, Fairhope, AL
(Click Link): To register for the SUMC conference and festival
ALL ROADS LEADS TO FAIRHOPE, AL FOR THE SUMC THAT RABBIT URBAN MUSIC CONFERENCE and BLOCK PARTY (GULF COAST EDITION), AUG 31st – SEPT 2nd, 2018
SUMC THAT RABBIT URBAN MUSIC CONFERENCE AUG 31st SEPT 2nd Fairhope AL
2018 CONFERENCE THEME "MARKETING URBAN MUSIC IN THE DIGITAL ERA" The Southeast Urban Music Conference will kick off its industry event and block party on August 31st.
Hosted by a collaboration between SUMC and THAT RABBIT DISTRIBUTION. Conference co-chairs Tony Baraka and Ray Hamilton state that the conference is designed to bring together a diverse group of musicians and entertainers.
Event attendees will be provided with information on Digital Music Distribution, Technological Engagement and Platform Creation. Daily power seminars will be provided by music industry professionals.
"This is the first time in history that we will be bringing the SUMC brand along with our new partner THAT RABBIT MUSIC DIGITAL DISTRIBUTION and creating different platforms from power seminars, technology engagement and a block party as part of our celebration."
There will be a special honoring of some of the top DJ's in the gulf coast as well as engaging seminars on branding, digital distribution, publishing and much more.
Over the course of the three-day conference, attendees will learn how to Market Urban Music in this digital era. as well the latest technology used in the music business and audience engagement.
Power seminars will include methods to create a platform, and an in-depth discussion of the benefits of digital distribution will be provided. This year's conference will also feature a block party, marketplace area and branded sponsored lounges for attendees from an array of Independent Artists Performances.
The SUMC THAT RABBIT Urban Music Conference & Block Party is being sponsored by Sony Music, The Orchard, I Heart Radio, Microsoft and Urban Plush Magazine. The seminars are made possible by Spotify, Apple Music, Sound Exchange, ASCAP, BMI & SESAC.



For sponsorship, vendor space and performance slots, please call: 866-652-8882 or email: sumcfestival2018@gmail.com Performance slots are limited.
(Click Link): To register for the SUMC conference and festival

For conference registration, sponsorship, and performance slots please call 866-652-8882 or email sumcfestival2018@gmail.com
Organizer of 2018 Southeast Urban Music Conference | That Rabbit Music Festival
FOLLOW US ON ALL SOCIAL MEDIA @sumcfestival2018