SUPER BOWL 50 Game Ad NFL Halftime Show Lineup 2016
Panthers vs.
Broncos

Super Bowl Trailer | NFL
Super Bowl halftime show 2016: Coldplay, Beyonce and Bruno Mars will all perform
The most anticipated non-football part of the entire Super Bowl extravaganza is the halftime show, which has become a hugely prestigious entertainment spectacle and almost bigger than the game itself.
Halftime Show, Prop Bets, Odds, Online Streaming
Coldplay will serve as headliner with a confirmed guest appearance from Beyoncé; Bruno Mars is reportedly slated to join the festivities as well, and Lady Gaga will sing the national anthem before kickoff.
Beyoncé was the performer of the halftime show at Super Bowl XLVII in 2013 and Bruno Mars was the headliner for Super Bowl XLVIII one year later in 2014. Coldplay has never before taken the stage at the Super Bowl.
The game itself will feature the Denver Broncos, in their eighth Super Bowl, and the Carolina Panthers, playing in their second Super Bowl.
During Super Bowl XLIX in Glendale, Arizona, in 2015, Katy Perry and Lenny Kravitz were the headliners and Perry rode a mechanical lion before dancing with sharks and beach balls.
SUPER BOWL 50 Game Ad NFL Halftime Show Lineup 2016
Super Bowl 50 will be celebrated throughout the Bay Area. The game itself will be played at Levi's Stadium in Santa Clara on February 7, 2016, preceded by a weeklong series of public events held throughout the Bay Area. The Super Bowl City fan village, the NFL Experience and the Media Center will be hosted in San Francisco.
CBS is the official broadcast network for Super Bowl 50.
The Lombardi Trophy includes Arabic numerals instead of Roman numerals this season.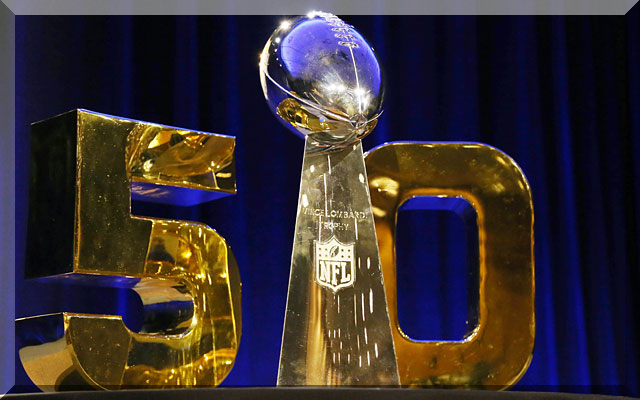 The 2016 Super Bowl is available on online and on almost any device starting at 2 p.m. ET. Available platforms:
Apple TV

Roku

Chromecast

Xbox One

Amazon Fire TV

Android TV

iPads

Android tablets