HOLLYWOOD SOUTH PRESENTS
CURVEATHON: THE LAUNCH EVENT FOR "WHO'S GOT CURVES"
PLUS SIZE MODEL SEARCH REALITY TV SHOW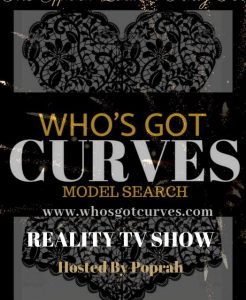 Six Casting Calls in One Day/One Location, Workshops and Party Saturday, January 18th at Sonesta Gwinnett Place Atlanta.DESCRIPTION: "CurveAThon" is the celebration of the new reality TV show "Who's Got Curves?" It includes a mega-casting session for the top fashion shows, TV shows and modeling agencies scouting Curvy Women AND Big & Tall Men.Kim "Poprah" Kearney who was a popular contestant on Vh1's "I Want to Work for Diddy," Season 1 & 2 created "CurveAThon" to recognize curvy women for their buying power, knowledge, expertise and influence. "We want to align curvy women and big & tall men with people, businesses, and organizations who recognize, respect, and embrace their influence and power" says Kearney.
Whos Got Curves REALITY TV SHOW Atlanta Photos
"Who's Got Curves" will delve into the modeling and dynamics of 14 contestants. Competitors will compete through a series of challenges that will include runway shows, commercial work and photo shoots while the judges, who include some of the who's who in the fashion & beauty industry, work with the girls and show them the tricks of the modeling trade.
The show features contestants from across the country competing for prizes and opportunities which will elevate their modeling careers.
SHOW CONCEPT: This is the first time ever, that a television show will totally honor, respect, and validate the plus-sized woman experience.

Who's Got Curves REALITY TV SHOW Atlanta Photos HOLLYWOOD SOUTH PRESENTS https://rawdoggtv.com/whos-got-curves-reality-tv-show-atlanta-photos
Read about us on Curbed.com: https://detroit.curbed.com/2019/5/28/18642584/black-celebrity-investment-detroit-angela-yee
Like us on Facebook: https://www.facebook.com/detroitdreamis
Follow us on Instagram: https://www.instagram.com/detroit_dreamis/

Image (APPS) Gerald (#Google & #BET #MEDIA Partner) ☎ (305) 490-2182
"Building Community Value – Buy the Block"
Zabrina Horton, Co-Author Wealth for Women